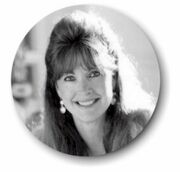 Dr. Barbara Horwitz was a physician and Star Trek fan from Pennsylvania. Within fandom, she was active in the Federation Gaming Network, and later went on to found two independent PBEM roleplaying games, Junction Point and Typhon Station. Her most enduring character was Barbara Clairidge.
Aside from Star Trek, Dr. Horwitz loved animals. She bred and showed Russian Wolfhounds, and also judged sighthounds.
Barbara Horwitz passed away from cancer in the spring of 2005. She was in her mid-40s. Her sudden passing was mourned by many of her friends and fellow gamers online, and she is fondly remembered by all who were fortunate enough to know her.