This article deals with fan-made productions (or fan films) using elements of the Star Trek franchise. Paramount Pictures and its licensees are the only organizations legally allowed to create commercial products with the Star Trek name and trademark. Consequently, these fan productions are unauthorized and subject to legal issues. Even so, this massive body of work continues to exist and grow. Fans have produced works in the performing arts (fan films, the stage, audio drama or filk), literature (fan fiction and screenplays), visual arts (2D & 3D) and recreational arts (games, models & crafts).
The following articles define various aspects of fan fiction: fan gaming, fan productions, fan publications and fan websites.
Star Trek source fiction includes canon productions, licensed productions and other licensed publications, licensed websites, licensed gaming and

limited license gaming

.
Fan films
[
]
With the cancellation of Star Trek: Enterprise in 2005 and the improbability of any professional productions for the next few years, Star Trek fan films have become news. The number of groups producing fan films has leaped, with a crop of new fan films planned for release. Following a lawsuit between CBS and the creators of Axanar, on June 23rd, 2016, CBS and Paramount Pictures released the Star Trek Fan Film Guidelines.
This article categorizes fan films by production status and notability. Produced films are listed first with the most notable productions. Films in post-production (filming or preparing raw footage for release) come next, followed by pre-production. Fan trailers are listed last, not because they are less notable, but because they are not meant for production at all.
Notable projects
[
]
A few productions are more notable than others due to fan and media attention from around the world. These films are often larger productions with larger budgets, and in some cases, are produced with the participation of the actual Star Trek cast and crew.
In similar form to Star Trek: Phase II (see below), creator Vic Mignogna created Star Trek Continues (aka STC) in an effort to complete the five-year mission of the Enterprise. But unlike Phase II, the main cast of STC consists of mostly professional actors, including voice actors Todd Haberkorn &

Chuck Huber

and actress Michele Specht, as well as former MYTHBUSTERS co-star

Grant Imahara

. Also notable on the cast are Chris Doohan (son of

James Doohan

) and former Phase II actress Kim Stinger.
Originally produced in conjunction with the crew from

Starship Farragut

, the series also utilized replicas of the original sets used for The Original Series. The series is notable in that it is the only fan series that is an official not-for-profit organization. It had completed its' run of 11 episodes (originally planned to be 13 before CBS/Paramount's "Fan Guidelines" were released).
A long-running series with 45 produced episodes, the series focuses on the starship Excelsior and its home base, Deep Space 12, as they mediate disputes between various races and fend off attacks from a powerful new alien race, the Grey. This series is an offshoot of a previous Los Angeles Star Trek fan series, Voyages of the USS Angeles, sharing some settings and characters. Fan Films Quarterly recognized Hidden Frontier as one of the ten most pivotal moments in fan film history within the pages of FFQ's

Summer

2006 issue (issue #4), released in

June

2006. This series was completed after seven seasons. To view all of it, see http://www.hiddenfrontier.com/episodes/indexhf.php
One of the most ambitious fan film projects, creator James Cawley aimed to complete the original series' five-year mission, with fan actors cast as Kirk, Spock and the rest of the Enterprise crew on an exact replica of the original bridge set. Begun in April 2003 with the help of producer Jack Marshall, the series has received major media coverage, with articles in Variety and Wired. Their website is here: http://www.startreknewvoyages.com/
Eight episodes have been produced - the pilot, "Come What May", episode 1: "In Harm's Way" in

October

, and the second episode, "To Serve All My Days" (penned by D.C. Fontana, story editor on the original series), and the third episode "World Enough and Time." "To Serve All My Days" features Walter Koenig guest-starring as an older version of Pavel Chekov, his character from the original series, and "World Enough and Time" has guest star George Takei reprising the role of Hikaru Sulu, as well as a cameo by the original Yeoman Janice Rand, Grace Lee Whitney. The fourth episode, "Blood and Fire, Part 1" has been released, while the fifth, "Blood and Fire part 2", is currently in post-production, introduces Bobby Rice, who portrayed Ensign Ro's brother in

Star Trek: Hidden Frontier

, as Peter Kirk and Patrick Bell as Xon from the unproduced Star Trek: Phase II. Also in post-production are episode 6, "Enemy: Starfleet" written by Trek novelist Dave Galanter and Patty Wright, episode 7, "The Child", written by Jaron Summers and Jon Povill, and episode 8, "Kitumba", written by Patty Wright from the two-script concept written by John Meredyth Lucas for the unproduced "Star Trek: Phase II" James Cawley guest-starred in one Hidden Frontier episode and in Star Trek: Of Gods and Men, and appeared in the 2009 J.J. Abrams "Star Trek" feature film, at the request of Abrams. Rod Roddenberry is also working on New Voyages. NV has been mentioned in

Toyfare

,

Star Trek Magazine

, and on

startrek.com

, and was nominated for both a Nebula and Hugo in 2008. Also, in 2008 Star Trek New Voyages: Phase II won the 2008 TV Guide On-Line Award for "Best Webisodes", competing against Battlestar Gallactica and others. James Cawley was named one of the ten most important Star Trek fans in history by TrekCore.com and won the Icon award for Best Actor on the Internet.

Fan Films Quarterly recognized New Voyages as one of the ten most pivotal moments in fan film history within the pages of FFQ's Summer 2006 issue (issue #4), released in June 2006.
A series of Finnish parody movies created by

Samuli Torssonen

from 1992 onward. The first release was a simple animated film, but later films grew more complex, moving into 3D animation, then live-action. The latest film,

Star Wreck: In the Pirkinning

, was released in October 2005 and became an internet sensation, having drawn more than four million downloads from the main site alone, making it the most popular film of all time in Finland. An organized set of links to their films can be found here: http://startrekreviewed.blogspot.com/2009/06/113.html
An online series which focuses on the adventures of the starship Exeter (NCC-1706) in the TOS era, with production design matching the time. Two complete episodes have been released. This series features extensive use of interior starship sets and many human, Klingon, and Andorian characters. For more information, see Starship Exeter webpage at Star Trek Reviewed"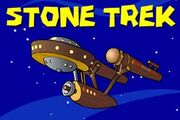 A flash-animated cartoon series that presents episodes of Star Trek as it might have appeared in the universe of The Flintstones, complete with 1960s-style laugh tracks. The series takes place aboard the stoneship USS Magnetize, powered by its magma/antimagma engines. Characters include Captain

James T. Kirkstone

, the

Vulcano

first officer

Mr. Sprock

and ship's doctor

Leonard "Fossils" RcKoy

. The series also features a running count of redshirts killed in each episode, and fans can write in to nominate themselves to be caricatured as a redshirt in future episodes. Their website, with links to their films, can be found here: http://www.angelfire.com/fl/sapringer/STONETREK.html
This unreleased episode (previously entitled Yorktown 2: A Time to Heal) was originally developed as the second installment for a planned fan series depicting events occurring between the original series (TOS) and the feature film franchise. The project was eventually placed on hiatus and never finished due to legal wrangling and proprietary concerns. The episode began filming in 1985, with George Takei reprising his role as Hikaru Sulu. As of 2010, the project has recently resurfaced (as Yorktown: A Time to Heal) and is now back in production with newly added CGI VFX elements produced by John Atkin. A worldwide release is planned for Christmas 2020.
Produced fan films
[
]
Borg War was the first feature-length animated Star Trek fan film, slated for release on September 8th, 2006. It was produced by a single individual using two Star Trek-themed computer games, a process known as machinima. The film takes place 17 years after the return of the USS Voyager, as the Alpha Quadrant is invaded by a group of alien-infected rogue Borg. Borg War is unusual among fan films in that the licenses for the games specifically allow the creation of new game materials subject to certain restrictions. It also repurposes the voice-over clips from the games to create an entirely new plotline. A playlist for this movie can be found here: Borg War Webpage at Star Trek Reviewed
The Star Trek: The Next Generation LEGO film, "Captain's Nightmare", brings audiences back to the times of the Enterprise-D and crew when a familiar adversary transports aboard the ship from its enemy domain. Directed by Jonathan Markiewitz ("Batman: Revenge"), "Captain's Nightmare", filmed entirely with LEGOs, revisits the days of The Next Generation in stop-motion animation. The film was inspired by the music composed and conducted by

Ron Jones

, and the two-part episode "The Best of Both Worlds". It can be viewed only in the UK, here: http://news.bbc.co.uk/nolavconsole/ukfs_news/hi/newsid_5300000/newsid_5301400/bb_rm_5301426.stm
Car Trek

[1]

Short spoof of Star Trek TOS - based on the premise that the Enterprise was a

Mini

.
Coolage Characters

[3]

Sci-Fi Shortmovie. Introduces the Movie "

Coolage 3 - Revelations

".
Deep Space: 90210

[4]

A crossover parody puts the cast of 90210 in deep space on the Star Trek spinoff.
Deep Space Nine - How You Live

[5]
Intergalactic Battle Tournament

[6]

The 74th annual

Carl Weather's Karate Tournament

is here! It's Bloodsport in space with exciting battle sequences that have really good choreography *sarcasm*. This exciting shitmovie has it all;

sci-fi

, action, musical interludes, and a surprisingly erotic performance by

Dan Falzone

.
Lon & Roxy's Big Star Trek Adventure #1

[7]

What began as a space-themed wedding turns into an intergalactic struggle between good and evil. This zany adventure from the "shitmovies.net" team combines the thrills of Star Trek with the insanity of

Pee-Wee's Playhouse

.
Lon & Roxy's Big Star Trek Adventure #2

[8]

Lon

and

Roxy

's wedding is interrupted by Starfleet when an unknown alien species appears in the neutral zone. This crazy spoof combines the fun of Star Trek and the absurdity of Pee-Wee's Playhouse.
The Metrén Incident

[9]

The Metrén Incident is the story of the USS Avatar and its crew under the command of Captain Talisa Ren. They boldly go on a rescue mission, where not everything pans out like the crew (nor the scriptwriters) expected. A Vulcan Professor named T'Prill is kidnapped for an unknown reason by the (up-to-now) non-violent inhabitants of the planet Metrén. As the crew finds out, diplomacy alone will not be enough to rescue the Professor. The Metrén Incident was filmed in the Czech Republic by the local Star Trek fan club CZ Kontinuum and was released on Nov 24th, 2007, in Atlas cinema in Prague. Numerous links to enable downloading and use of subtitles in a variety of languages can be found here: The Metrensky Incident webpage at Star Trek Reviewed
Mystery Science Theater 3000 - Star Trek V: The Final Frontier

[10]

Ryan Johnson

's take on a film the original Mystery Science Theater 3000 never tackled. Ryan and MST3K characters

Tom Servo

and

Crow T. Robot

mercilessly lampoon the fifth Star Trek feature film and William Shatner's direction.
Set shortly after Star Trek VI: The Undiscovered Country, this new fan film series takes place in 2296 aboard the starship Potemkin, an up-rated Constitution III-class (such as the U.S.S. Enterprise-A, NCC-1701-A). It's on a five-year mission of exploration in deep space where its crew will encounter strange new worlds while seeking out new life forms and new civilizations. Our episodes will focus on science fiction as well as action-adventure.
Filming began in July 2010, with their first episode going online in December 2010. The second went online in January 2011. Another two episodes are in post-production, with two more set to be filmed in February 2011. Filming takes place throughout Southwest Georgia in order to take advantage of the wide variety of unique locations throughout the region. The cast is predominantly composed of local actors and drama students. As of May 2014, they had released 14 films and were releasing more regularly.
Redshirt Blues

[12]

David Rogers

' film presents the tale of a space-weary security officer on the Enterprise who is sick of James T. Kirk, the ship, and the red shirt he must wear every day. While on patrol, he meets another redshirt on first assignment, to whom he reveals the truth about redshirts. This film gained national exposure when screened on the SciFi Channel's

Exposure

in 2001.
SouthTrek

[13]

SouthTrek is an animated w:South Park-style spoof on the original Star Trek series. The first episode,

Logic Has Nothing to Do with It

, was released in

December

2006 and screened for the first time at

I-CON 26

([14]) in

March

2007. In the South Park spirit, the voices for the entire cast of characters are made by only three actresses. See also: SouthTrek on IMDB and the only other episode released as of May 2014 was this short: https://www.youtube.com/watch?v=tv7oaV_blwM (0:15)
Star Track

[15]

Star Track is a fan film comedy series, taking a satirical look at the world of Star Trek. Over 20 episodes have been produced, with a spinoff planned for 2007. Episodes are generally 20 minutes in length and range from mirror universe episodes to cloned enemies coming back from the dead. The USS Idomo is their home, a ship based on the NX-01 from Star Trek: Enterprise, though it was destroyed in episode 20. A new original ship set sail in episode 21. For links to all of their episodes, see Star Track Webpage at Star Trek Reviewed
Star Trek: Aurora is a series of 3D animation. The story is about Captain Cara and her one Vulcan crew on the starship Aurora.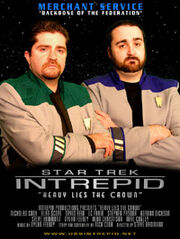 Intrepid is a series set in the 24th century, several years after Star Trek Nemesis, and features Federation and Merchant Service efforts to colonize a sparse region of space far from the Federation core. Star Trek: Intrepid was filmed entirely in Scotland. Their website is here: Star Trek: Intrepid
A machinima based upon the massively multiplayer Online Role Playing Game Star Trek Online. The episodes occur aboard the USS Enterprise, captained by James T. Kirk. All characters are voice acted by the show's director, Pcola Pat. The style of the show is that of the original series. Each episode is approximately thirty minutes in length and tries to incorporate the key fundamentals of what a star trek episode should have (action, drama, fantasy, comedy). Pcola Pat tries to stay true to the original show by basing each episode on some sort of social issue and presenting it in an entertaining way.
Star Trek: The Pepsi Generation

(Citation needed)

In this 1989 film, the "Ferrari" have stolen all of the Pepsi from Starbase Seven-Up, and it is up to the crew of the Enterprise to rescue it. Captain Picard, along with Doodah the android, Ya Har, Jordashe, Rigor Mortis, Sexx Toii (the Betamax counselor), Ensign Expendable, and Weasley Crushme, all leap into action. Along the way, viewers meet the harried Star Trek writing crew and the Ferrari's fearsome leader. This film has been popular for years and was featured by the BBC in a series on Star Trek fans.
A series of three animated shorts made in 1974-75 on Super 8 film. A 43-minute featurette STAR TRIX:THE FLICK (also made in Super 8) was completed in 1986. A hand-drawn comic detailing what happened to the characters between the short films and featurette is currently (as of April 26, 2012) being serialized on the Art Binninger's STAR TRIX website. http://spritzer93436.tripod.com/id33.html
Launched in July 2005, this series takes place during the original series era and tells the story of the crew of the USS Farragut, a Constitution-class starship under the command of John T. Carter. To date, the production has released their pilot episode. The production was featured in a June 18, 2006 New York Times article, and has signed a cooperative deal with Star Trek: New Voyages. Production on their second episode began in September of 2006 and is targeted for a Fall 2007 release.
Steam Trek

[16]

The Endeavour Star Trek fan club's Ad Hoc Film Society made this short film in 1994, which was later re-cut for YouTube. Based on the concept Star Trek - The Silent Generation, Steam Trek is a satire based on early 20th-century silent films. It carries the tagline "In space, no one can hear you".
Toilet Trek

[17]
A Very Merry Star Track Christmas

[18]
A new ongoing multigenerational fandom video project covering all timelines, currently focusing on a small destroyer, the USS Justice in the late 23rd and early 24th centuries. Most of the cast are members of Star Trek fan clubs located in New Jersey. Three episodes have been completed, along with other special shorts. The 4th and 5th episodes are currently in pre-production.
The Voyages of the USS Angeles

(Citation needed)

This series started with a feature-length film, The Price of Duty, produced in the mid-1990s by a Los Angeles Star Trek club's "video production committee." This

Star Trek: The Next Generation

era series takes place around the wild region of space introduced in the film Star Trek: Insurrection. It was the basis of the later fan series

Star Trek: Hidden Frontier

and spawned other local fan productions. Neither the series nor the movie is currently available on the internet due to strict regulations by the production team responsible for the creation of the show. It was only made available to the cast and crew of those production teams. Some episode titles are "A Little Night Music", "Dreamers", "Q in the Dark," and "Price of Duty".
Fan films in production
[
]
Fan film groups which are either filming or have completed filming and are in post-production prior to release. Does not include trailer or teaser-only projects.
Developed from a 1997 audio drama series (Star Trek: The Undiscovered Series), Andromeda was launched in June 2004 by fans in Osnabrück, Germany. Filming began the next month, and the first teaser trailer was released in October 2004. of that year. Primarily a three-person operation, Andromeda is shot live-action shot against green screen with CGI ship scenes. Episodes are planned to be 45-60 minutes long, with audio in German with English subtitles. The current release estimate is for the end of 2006. As of Dec. 2013, this film has been abandoned.
Based out of the Netherlands, the first episode of Dark Armada for the most part, takes place in the original series era. Filming began in January 2006. The series takes place on board the USS Batavia, named after the famous Dutch ship from the 17th century. Captain Richardson and his crew will make a shocking discovery which will determine the fate of life on Earth and other planets of the Federation. To date, one episode entitled "These Are The Voyages..." has been released, the second full-length episode, "Nightfall" is currently entering post-production and will be released in late 2009. Several shorts are also in production. As of December 2013, this group has produced several films. See
Star Trek: Das Vermächtnis

 

Germany's Star Trek: Das Vermächtnis (Star Trek: The Legacy) is shaping up to be one of Europe's most ambitious fan films. After a false start with director Christoph Hees in 1997, the project went into hiatus for two years. In 2000, German fan celebrity Willi Wiegand (aka Vulcan Willi) joined the cast. In May 2003, the production was featured in Trekkies 2, when Denise Crosby visited their new Next Generation-style bridge set. By July 2005, nearly $30,000US had been spent on the sets, mostly by Christoph personally. The film is planned to be roughly 60-90 minutes long and is scheduled to be released in 2006 on the internet as a free download. The filmmakers plan on releasing an English dub as well. As of December 2013, this project has been abandoned or put on long-term hold.
Star Trek Excalibur

[19]

Excalibur, which is based out of Las Vegas, Nevada, began production in June 2005, and large-scale sets were at an advanced stage. In the story, the Excalibur is being repaired and refitted in spacedock after the wargames in which the USS Enterprise, under the control of the M-5 computer (

TOS

: "The Ultimate Computer"), nearly destroyed the ship and killed the entire crew. The Excalibur's launch date is just days away when Admiral Yoritomo comes aboard to personally deliver Captain Nelson the ship's first assignment. The production already has 9 completed scripts and has arranged for a composer to write an original score. The filming of the first episode was delayed due to the destruction of the sets (The Last pictures of the original Excalibur sets) by the new owner of the space being rented as a sound stage. After several years of recovery from this disaster (and the lawsuit over it going nowhere), the show has begun pre-production again. Test filming on the transporter room set will commence as soon as the set is completed. A Short Pre-Series Webisode is scheduled to shoot in November with a hopeful Christmas release. Excalibur Wiki Page
A three-part series directed by Tim Russ, starring several Star Trek stars, including Nichelle Nichols and Walter Koenig. This project was completed and can be viewed on the web. The production company, Star Trek Renegades, is working on a new series. For more information, see
Star Trek Protector is a London-based fan production with an expected release in Summer 2008. A teaser can be seen on youtube or via the website.
Star Trek: SFI is scheduled to begin filming in April 2008. Principal photography will take place in San Francisco, California, and the surrounding areas. The series will follow the life of Lieutenant Commander Nick Spencer, a Starfleet Intelligence analyst, and his colleagues as they struggle to balance the competing demands of personal and professional roles. Current plans call for a six-episode story-arc for Season One, essentially the backstory for

TOS

: "The Enterprise Incident". SFI is unique to the Star Trek universe in that it is not set in space.
Star Trek: USS Hathaway takes place during the same time as events in Star Trek II: The Wrath of Khan and Star Trek III: The Search for Spock. The production crew plans to have the pilot episode, "Genesis", finished and released in four parts during 2006. The group hopes to be able to produce three to four episodes a year. A trailer has been released, and the series has been highlighted by G4TV. As of December 2013, this project has been abandoned.
Trinity

Trinity is a brand new fan film set within the Star Trek universe. Its aim is to create a high-quality trilogy of films, preceded by a series of short 'webisodes' to introduce the backstory and principal characters, as well as hint at the darker things to come. The decision was made with Trinity to move past what has been seen before and tell a new story with new characters. It is a live-action production, using a combination of physical and virtual sets and a number of external locations.
This series is in the planning stages. USS Lexington takes place in the TOS era. Robert Wesley, now retired from Star Fleet and Governor of the Federation colony on the planet Mantilles, struggles with a decision to return to the services.
Fan trailers
[
]
Fan-produced trailers for films that are not intended for production.
When Captain Kirk was killed in Star Trek Generations, fans from around the world started the "Bring Back Kirk" campaign. The campaign's goal was simple: to see Captain Kirk returned to the living and see the character have a happy ending. This short film is not so much an endorsement of a particular plot point but an effort to show the possibilities of Kirk's return. This nine-minute trailer, released in 2004, features new CGI footage showing ships from the various Trek shows together on screen.
Some fan trailers, such as Grayson, have eclipsed many produced fan films in popularity.
Fan audio dramas
[
]
See: Fan audio dramas
Fan comics
[
]
See: Fan comics
Screenplay & novel-episodic series
[
]
Star Trek Avalon

 

A fan-made series that follows the creative vision of several fans who wish to redefine the franchise and Roddenberry's vision of the future by throwing the rules out the window and creating a new time where some things are familiar, but many are completely reinvented. More of a western in space than even TOS, Avalon is a mix of dark drama, action, and quite a bit of humor.
A recent entry into the fan-based series arena, featuring weekly episode releases in teleplay format. The series blends the spirit of adventure from the classic series and the dramatic, serialized storytelling of Deep Space Nine. The show follows a new ship and crew who set out to establish a network of transwarp gates in other galaxies in an effort to expand the crumbling Federation forty years after the war with the Dominion.
A collaborative fan fiction project depicting events in the Alpha Quadrant after the Dominion War. With an original ship and crew, the series is a mixture of political intrigue, exploration, and character-driven drama with a strong story arc. It is written as a series of teleplays grouped into 26-episode "seasons".
Star Trek: Voyager Virtual Season 8 Project [21]

A collaborative fan fiction project continuing the story of the Voyager crew after they returned to the Alpha Quadrant at the end of the show. Written in the form of 25-45 page short stories (in Word or PDF format) grouped into two 26-episode "seasons" (Seasons 8 & 9 if they aired on TV). This series was produced in 2001 & 2002.
Star Trek: Voyager Virtual Season 8 and 9 translated in French[22]
Virtual Enterprise  

A script-based series which continues the canceled Star Trek: Enterprise beyond its 4th season.
Virtual Enterprise Season 5... translated in French[23]

After the cancellation of Star Trek: Enterprise, a completely new virtual season 5 of 14 novels-episodes, 20 to 50 pages long each, translated in French (original novels published on Enterprise ST Virtual).
Legal issues
[
]
The attitude of the Star Trek copyright and trademark holders towards fan works has varied over time. In early 1996, Viacom went on the attack, sending out a wave of cease and desist letters to webmasters of Star Trek fan sites which contained copyrighted film clips, sounds, insignia, or other copyrighted material. Under threat of legal action, many Trekkers shut down, leaving behind scanned copies of letters sent by Viacom. Shortly afterwards, Paramount launched a subscription-based website, Star Trek Continuum. In the lead-up to the release of the film Star Trek: Insurrection, then-president of Paramount Digital Entertainment David Wertheimer stated Viacom was targeting sites that were "selling ads, collecting fees, selling illegal merchandise or posting copyrighted materials."
Faced with the threat of legal prosecution, most of the sites complied with Viacom's demands, deleting the offending data. However, a handful of webmasters resisted Viacom's pressure tactics, demanding specific citations of offending material from Viacom.
Viacom's actions were seen by numerous sources as an example of a wider civil liberties issue and poor public relations. In a Wired article, Jennifer Granick, a San Francisco criminal lawyer who went on to champion cyber rights, felt that the unofficial sites should be covered by the fair use doctrine in U.S. copyright law. In a 1998 article, UCLA associate professor Howard Besser saw it as an example of the content industry "exploiting concerns over digitization and attempting to reshape the law by strengthening protection for copyrights holders and weakening public rights to access and use material."
Fan fiction has been a specific battleground for the legal issues balancing a copyright owner's legal rights against a fan's use of that material, and Star Trek has been at the forefront of the controversy. Many precedents set by fan fiction apply to other media, particularly fan films and audio dramas - however, the same dangers apply. Incidents where fans have broken the tacit agreement between authors and fans (for example, trying to make money from a derivative work themselves, or accusing an author of appropriating their idea) have caused a backlash from certain authors.
Star Trek fan films currently operate in an informational vacuum since Paramount has made no official statement regarding their existence, pro or con. Fan filmmakers have generally kept a low profile, hoping not to draw attention. However, with the demise of official productions, the fan film community has been drawing more attention in the media and even a certain amount of recognition from the entertainment industry.
Cow Creek Films, the production company at the time for Star Trek: New Voyages, had contact with Paramount to successfully reverse a cease-and-desist order which resulted in a set of guidelines being verbally agreed on:
No profit can come from the film.
It cannot be shown in festivals or at conventions, or any other venue where money is charged for admission, either directly for the film or the event itself.
It can only be a free download and cannot be offered in lieu of a "donation".
They were NOT giving permission to do the show, but rather turning a blind eye to it as long as the producers stick to the rules.
It should be borne in mind that there has never been any independent corroboration of this - Viacom has been consistently silent on the subject. However, the source, Jack Marshall, Executive Producer at the time, is considered trustworthy. What is more, the subsequent success of Star Trek: New Voyages and the prominent collaboration of ex-Paramount cast and crew would suggest that Paramount know about them and are giving their tacit permission.
For a more comprehensive listing of fan productions on Star Trek Expanded Universe, see the categories at the bottom of this page.
External links
[
]
Trending pages
All items (303)