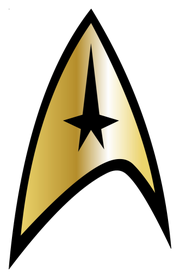 The
Cochrane delta
is the name given to the standard asymmetric energy-curve used by
Zefram Cochrane
to illustrate the energy expenditure in his theory of continuum distortion. (
Star Trek
novel
:
Federation
)
At least in the 2230s, the assignment patch for the USS Kelvin was based on the Cochrane delta. (Star Trek)
In the mid-23rd century the Cochrane delta was adopted as the insignia of the Constitution-class USS Enterprise (Star Trek: The Original Series) before being applied to the whole of Starfleet in recognition of the Enterprise's successful mission. (Star Trek: The Motion Picture)
The Cochrane delta was still used as part of Starfleet's insignia well into the 29th century and its origin was still recognised during the 24th century. (VOY: "Relativity"; Star Trek: The Adventures of Argus)
Community content is available under
CC-BY-SA
unless otherwise noted.