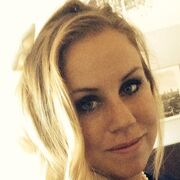 Estelle Chanteclerc was a Malachorian hussade player and PhD student at Northwestern University, nicknamed the Goddess of the Dome Depot due to her academic prowess compared to her skill level as a rover.
She was a condensed matter experimentalist, even comparing the average PhD thesis at Sorbonne Paris VI to her own masters thesis. As a longtime sheirl for the Quendelton State University Wildcats, she played her first university game for the Wildcats as a reserve rover, even procuring the Wildcats the decisive point over the Spoiled Rotten University Glamour.
She applied at University of Aldebaran as well, getting rejected.(Star Trek: False Vacuum: "Thesis Dilemma")
Production notes
[
]
Due to the use of photomanipulation, she was "played" by Marilyne Poirier.