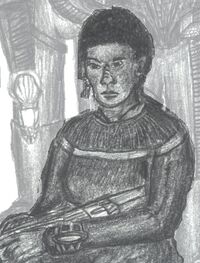 Starfleet Ensign Folani Jederia of Bajor served aboard the USS Petraeus.
In 2375, however, she was assigned on detachment to AR-558, where she served in ground combat alongside Lieutenant Commander Makis Spirodopoulos. Both were taken prisoner aboard the CUW Trager. There, Cardassian doctor Sekdain Istep treated her extensive injuries.
From there, the Cardassians shuttled Folani and the other prisoners down to a prison camp on the outworld of Lessek. There, Folani grew increasingly agitated with Spirodopoulos' decision to focus on reconnaissance rather than attempting to escape and openly criticized him for it. During this exchange, Folani was forced to admit that the conduct of these Cardassians--and their treatment of her specifically--stood in marked contrast to the brutality that characterized the Occupation.
When it turned out these Cardassians were rebels against the Dominion, she accepted their invitation to join the rebellion only with great reluctance--and because she trusted her commanding officer, Makis Spirodopoulos. Her willingness to join, not surprisingly, did not extend to accepting an offer of Cardassian armor. This led to a spat between her and a Cardassian noncom that could have erupted into violence had not Spirodopoulos and Macet intervened. Though Spirodopoulos reprimanded her for taking Trughal's bait (and very nearly dropping the "S-bomb" in the process), he did insist upon and win an acknowledgment from Macet that said uniform was only to be taken voluntarily.
Just before the ceremony establishing the Thirteenth Order as a joint strike force, Glinn Va'Kust attempted to break the ice by leading her to believe he was challenging her to a drinking contest. Rather than lose her temper, Folani took the challenge. He then told her no contest was necessary, and while this did not earn her friendship or unreserved trust, she was civil towards him.
Despite her continuing reservations, Folani would make a noteworthy suggestion for the battle: noticing the controversy surrounding Glinn Daro, she suggested his presence would distract a security team from the base enough to stun them before they could report the presence of the Thirteenth Order. Unfortunately, her efforts to treat one of the stunned Cardassian prisoners resulted in her finger being bitten. (Star Trek: Sigils and Unions: "The Thirteenth Order")
Memorable quote
Edit
"I'm not doing this for the Cardassians, sir. I'm doing this for Starfleet."
— Ensign Folani commits herself--grudgingly--to the Cardassian resistance against the Dominion. --The Thirteenth Order
Community content is available under
CC-BY-SA
unless otherwise noted.