Welcome to the STAR TREK Expanded Universe!
---
About this wiki > This encyclopedia was created to collect information on sourced fan-made Star Trek projects, such as RPGs, fan fiction and fan films. If you are interested in contributing, see our most wanted pages, or view recent changes where you can see and assist in current efforts. We allow "fanon" content. Enjoy the site!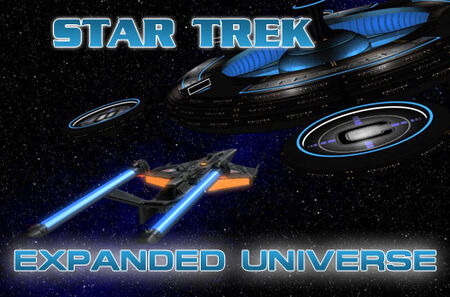 The STAR TREK Expanded Universe,
the wiki encyclopedia for Star Trek fan productions!
——— There are 14,005 articles on this wiki. ———
Warning: This wiki contains spoilers.
"Please don't let me become like that, sealed in there all alone with nothing but my contempt to sustain me. I want to see...I want to feel, and understand, to know what it is to draw close to you and reflect the light of your flame. Don't forsake your children—don't withdraw your spirit from our hearts in our time of trial…and please, let us not forsake you."
— Skrain Dukat's silent prayer after a vision of his alternate self. (Sigils and Unions: Catacombs of Oralius--The Desolate Vigil.)
Tip: Sign up or Log in to view Star Trek Expanded Universe with less ads.
Community content is available under
CC-BY-SA
unless otherwise noted.