Welcome to the STAR TREK Expanded Universe!
---
STEU is an encyclopedia and database, like Memory Alpha or Memory Beta, except for Star Trek fanworks instead of canon or licensed works. Fanworks include fan fiction, fan films, fan-created audio dramas, RPGs, and more, both past and present. We also chronicle the history of Star Trek fandom itself. If it's something fan-created, or a part of fanon lore, information about it belongs here. If you are interested in contributing and don't know where to start, see our most wanted pages, or view recent changes where you can see and assist in current efforts. Please enjoy the wiki!
STEU is not a storytelling venue or a host for fan fiction itself. All articles here must be sourced and properly attributed. If you are looking for a place to create your own stories, there are many fan fiction archives and other online hosts where you can post your work, and we look forward to seeing the fruits of your efforts!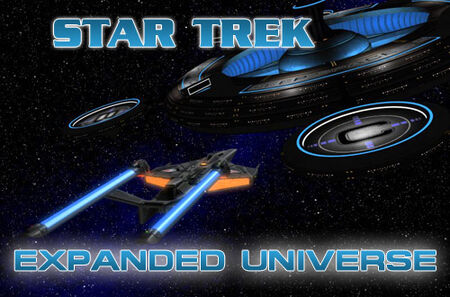 The STAR TREK Expanded Universe,
the wiki encyclopedia for Star Trek fanworks and fan productions!
——— There are 15,133 articles on this wiki. ———
Warning: This wiki contains spoilers.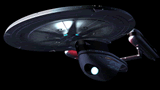 The USS Cantabrian (NCC-24705) was an Excelsior-class. From 2369 until 2373, her commanding officer was Captain Noah Wrightson. (Star Trek: The Cantabrian Expeditions)

The USS Cantabrian replaced the Constitution (Enterprise refit)-class USS Cantabrian (NCC-607). Commissioned on 6 February, 2314, the first commanding officer of this Cantabrian was Captain Thekla Lawless.

In 2315, the Cantabrian crew made first contact with the Kaartali, who were so impressed with Lawless that, on several occasions, they specifically requested the Cantabrian in their dealings with the Federation.

Captain Lawless retired in 2330, leaving the Cantabrian after 16 years. (Star Trek: The Cantabrian Expeditions: "The Fire In Which We Burn")

Captain Jack Annand took over from Lawless in the same year, claiming he had "big shoes to fill". He successfully commanded the Cantabrian until he mysteriously disappeared in 2341. (Star Trek: The Cantabrian Expeditions: "The Stars Fill The Sky, So In Love With You Am I")

Featured article archives • Nominate a featured article
Tip: Sign up or Log in to view Star Trek Expanded Universe with less ads.
Community content is available under
CC-BY-SA
unless otherwise noted.