Welcome to the STAR TREK Expanded Universe!
---
STEU is an encyclopedia and database, like Memory Alpha or Memory Beta, except for Star Trek fanworks instead of canon or licensed works. Fanworks include fan fiction, fan films, fan-created audio dramas, RPGs, and more, both past and present. We also chronicle the history of Star Trek fandom itself. If it's something fan-created, or a part of fanon lore, information about it belongs here. If you are interested in contributing and don't know where to start, see our most wanted pages, or view recent changes where you can see and assist in current efforts. Please enjoy the wiki!
STEU is not a storytelling venue or a host for fan fiction itself. All articles here must be sourced and properly attributed. If you are looking for a place to create your own stories, there are many fan fiction archives and other online hosts where you can post your work, and we look forward to seeing the fruits of your efforts!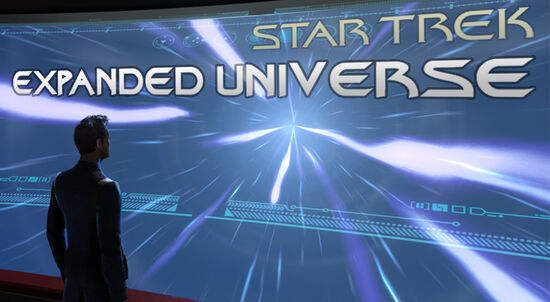 The STAR TREK Expanded Universe,
the wiki encyclopedia for Star Trek fanworks and fan productions!
——— There are 15,156 articles on this wiki. ———
Warning: This wiki contains spoilers.
"Assume, that is what you fleshy creatures do. You assume that you have rights. Bah! You had no right to come to our world and tell us how we should live and govern ourselves. We had been living perfectly fine for long before you came. Our government and society were fine. Until the Federation came and ruined everything. You and your ideas of rights and equality. Ka'al had never heard of such words. We were ruled by a king, and it was glorious. We had pride, worth, merit, substance. But then you Federation come with your technology and your ideology and tell us about freedom and equality. You encouraged revolution, and set up a puppet government that you dared to call a democracy. Democracy is not for the So'jan people. We are not human. We are So'ja!"
— So'jan operative So'han during his interrogation by Commander Peter Bradford after the attempted assassination of President Korvin Mot (Star Trek: Pioneer: "In Custody")
Tip: Sign up or Log in to view Star Trek Expanded Universe with less ads.
Community content is available under
CC-BY-SA
unless otherwise noted.