STARSHIP
Name:
Tetreya
Class:
Ar'kif
Status:
Active (2410)
The
RRW Tetreya
was a
Ar'kif-class
Romulan warbird
commanded by
Commander
Wyn Tressa
in the early
25th century
. (
New Romulus
,
Star Trek: Phoenix-X
)
In 2410, Centuron Reivf requisitioned the Tetreya from New Romulus Command for Commander Wyn Tressa, and kept its name and class a temporary secret as a surprise. (New Romulus: Page 2)
With Tressa and Reivf on a mission off-world, the Tetreya and its new crew was quickly commandeered by her mother Heike Tressa on her own mission to investigate a Tal Shiar base. Upon reaching the base, Heike Tressa rescued her trapped daughter, Reivf, Kitsu, Nat'al and Nat'tak by beaming them to the Bridge. Wyn Tressa quickly dismissed her mother and put Kitsu in temporary command while Wyn Tressa saw to her injuries in Sickbay. Now in command, and during a starship fight with several Baltim Raiders, Kitsu was able to discover Tal Shiar listening devices aboard the ship, prompting her to put Heike Tressa in the Brig. (Page 4)
Sometime later, the Romulan Republic sent the Tetreya through a wormhole in the Delta Quadrant to explore the Epsilon Fringe. (Star Trek: Phoenix-X: "Welcome to the Epsilon Fringe")
Command crew
Edit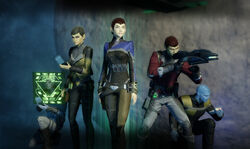 Community content is available under
CC-BY-SA
unless otherwise noted.