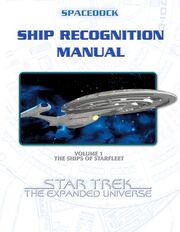 The Ship Recognition Manual, Volume 1: The Ships of Starfleet is a sourcebook based on the Last Unicorn Games' RPG system and was written by Steven S. Long. It was released online in December, 2000 after Star Trek RPG licence was transferred to Decipher, therefore it is not an official production.
References
Edit
Starships
Edit
USS Nova • USS Aurora • USS Binary • USS Equinox • USS Helix • USS K'shal • USS Nadir • USS Pulsar • USS Solstice • USS VanDenBroeck
USS Olympic • USS Biko • USS Hipocrates • USS Hope • USS Mayo • USS Moore • USS Nobel • USS Peace • USS Tranquility
USS Rigel • USS Akagi • USS Arcturus • USS Barnard • USS Deneb • USS Polaris • USS Sirius • USS Tolstoy • USS Vega
USS Saber • USS LaRue • USS Lu'ghara • USS Shepard • USS Storta • USS Veldar • USS Yeager
Other starships
Edit
Locations
Edit
External link
Edit
Community content is available under
CC-BY-SA
unless otherwise noted.