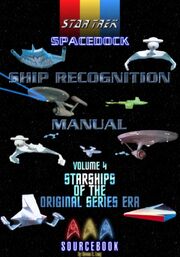 The Ship Recognition Manual, Volume 4: Starships of the Original Series Era is a sourcebook based on the Last Unicorn Games' RPG system written and released by Steven S. Long after LUG lost the Star Trek RPG licence. It uses the rules set out by Spacedock and lists starships of all types from that era.
The sourcebook was prepared prior to the airing of Star Trek: Enterprise and as such does not take into account any of the information seen in that series, which results in several conflicts throughout the sourcebook with the expansion of canon from Enterprise.
References
Edit
Federation starship registry
Edit
Other

Aldrin-class • Apache-class • Beowulf-class • Cook-class • Duchess-class • Faraday-class • Guardian-class • Hanseatic-class • Hephaestus-class • Hippocrates-class • Lincoln-class • Magellan-class • Majestic-class • Mandalay-class • Nairobi-class • Spica-class • Theseus-class • Thuringia-class • Trailblazer-class • Venture-class
Threat ship registry
Edit
Civilian & miscellaneous ship registry
Edit
External link
Edit
Community content is available under
CC-BY-SA
unless otherwise noted.