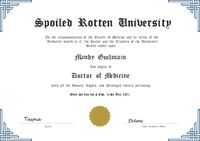 This article is about the Lyran university. For the RIS Bouteina episode, see Spoiled Rotten.
Spoiled Rotten University (Lyran classification: research university) was a Lyran university, located on Vrauzon.
Mandy Guilmain earned her Doctor of Medicine there. Its medical school was known to attract the people rejected by the more reputable medical schools of the galaxy, be it Breen, Klingon, Romulan, Cardassian or otherwise, and accepted students from subprime schools like Kinda Sorta College. Students, and especially medical students, were often more pampered than the vast majority of the college-aged population.(Star Trek: The Stoneship Files: "Educational Armageddon")
Tayna was the rector of SRU at the time of Mandy's graduation as a MD. (Star Trek: The Stoneship Files supplemental information)
It also offered an occupational therapy degree, the ErgD, which could be combined with a MBA, the combination of which was Chloe Galarza's backup plan when she was still in training. (Star Trek: False Vacuum: "Asteroid Dusting")
The varsity teams of SRU were known as the Glamour and had pink hussade jerseys covered with rhinestones. They once lost a game against Quendelton State University due to the intervention of Estelle Chanteclerc when she played her first college-level game. (Star Trek: False Vacuum: "Thesis Dilemma")
Community content is available under
CC-BY-SA
unless otherwise noted.