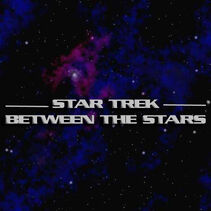 Star Trek: Between the Stars
(
ST: BtS or BtS
) is a
Star Trek
fan fiction
universe created by long-time fanfic author Christina Moore (also known as CamSPD). It was developed in order to give her characters from the now-defunct
Star Trek: Tales of the Eleventh Fleet
shared universe new life. Original characters created by her as well as guest appearances by other writers' characters and canon characters feature in the 50+ stories on the BtS website.
Set mainly post-Dominion War with some "flashback" stories, Between the Stars follows television and movie canon, for the most part, and includes some elements from the novel continuity. It is, however, considered by the author to take place in one of the many alternate realities that run parallel to the Prime universe.
Featured in the BtS universe:
Edit
Jack Elmlinger
Kahless of Vulcan
Miranda Fave
Joseph Manno
Brydon Sinclair
External link:
Edit
Community content is available under
CC-BY-SA
unless otherwise noted.