STAR TREK FAN FILM
STAR TREK: SFI
Author(s):
Parker Nolen and Jack Small
Format:
QuickTime, Windows Media
Star Trek: SFI was originally envisioned as an independent fan film; however, after extensive effort, Star Trek: SFI is in the process of re-development into an audio series. The series is set in the original "Star Trek" television series timeline, following the life and career of Lieutenant Commander Nick Spencer, an analyst for Starfleet Intelligence at Starfleet Headquarters in San Francisco. Nick and his colleagues struggle with the competing demands of personal and professional roles. Currently in pre-production, the internet-based series will be produced by "FanFilm Pictures". Principal production will take place in San Francisco, California and the surrounding areas.
Update (March, 2011): The first episode was scheduled to begin filming in April, 2008. Difficulties in obtaining permits from the San Francisco Film Commission for outdoor locations has been a significant obstacle for the production team. As a result, the series is in re-development as an audio drama.
Main characters/cast
[
]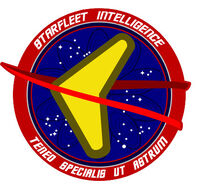 Supporting characters/cast
[
]
Episode guide
[
]
Season One
[
]
External links
[
]
STAR TREK: SFI official website