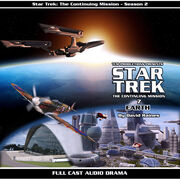 Star Trek: The Continuing Mission is an independently produced, non-profit, science fiction series set in the Star Trek universe. The show, created by Sebastian Prooth and Andy Tyrer in July 2007, is released exclusively via the Internet in the form of downloadable audio dramas. Sebastian Prooth and Andy Tyrer serve as the show's co-executive producers.[1] On November 10, 2007 it was announced that cast member Patrick McCray (Jack McGuire) would be joining the production team as a producer.
The pilot episode, "Ghost Ship," was released on December 25, 2007, and since then six more episodes have been released, most recently "Earth" on August 27, 2011. The producers' stated goal is for future releases to be on a quarterly basis.
The Continuing Mission follows the adventures of the Trieste class, USS Montana (NCC-1786) and a crew led by seven humans and a Betazoid. The premise involves the Montana and her crew's unexpected transference from the 23rd century, around the time of Star Trek II: The Wrath of Khan, to the 24th century, approximately 10 years prior to the continuity of Star Trek: The Next Generation where they are re-integrated into a very different Starfleet from which they came.[2]
Both the USS Montana and crew are original characters created specifically for this series. Though references to canonical Star Trek names, places, and events appear in the series, the events depicted in the series are not official canon.
Cast and crew
Edit
Main cast
Edit
Recurring and guest characters
Edit
Production crew
Edit
Guest stars
Edit
References
Edit
External links
Edit
Community content is available under
CC-BY-SA
unless otherwise noted.