STAR TREK FAN FILM
Starship Farragut
Author(s):
Several
Format:
QuickTime, Windows Media
Starship Farragut is an independent fan film series based on the original "Star Trek" television series, following the crew of the USS Farragut (NCC-1647), a Constitution-class starship, and takes place during the time of the legendary Captain James T. Kirk of the starship Enterprise (NCC-1701).
Produced by Farragut Films, Starship Farragut is the first independent film series to have full episodes in live-action, cartoon animation and comic book form.
Current Main Cast / Characters
Edit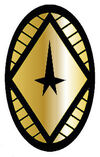 The series features three central characters.
Current Supporting Cast / Characters
Edit
Previous Cast / Characters
Edit
As of Summer 2014, Starship Farragut has released four full-length live-action episodes, three vignettes, two full animated episodes and a comic book. The fifth full-length episode, "The Crossing", is in post-production as of early 2015.
Starship Farragut EpisodesEdit
Starship Farragut VignettesEdit
(*)NOTE: According to the Farragut website, this is the "release date" for Version 3 of the vignette. Version 1 premiered 22 November, 2008, but was deemed too much of a "rough-cut" for official release. It has since been included as an "extra" on the DVD release of the episode. No information exists on Version 2.
Starship Farragut Animated EpisodesEdit
Starship Farragut Animated Comic BookEdit
| Title | Episode | Prod. no. | Stardate | Original airdate |
| --- | --- | --- | --- | --- |
| "Dearly Departed" | N/A | N/A | 3058.2 | 24 January, 2010 |
External links
Edit
Official websites
Other websites
Community content is available under
CC-BY-SA
unless otherwise noted.