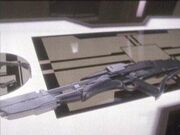 The TR-116 is a hand-held projectile weapon, that fires a chemically propelled tritanium bullet, which was developed by Starfleet Security for use in dampening fields or radiogenic environments where conventional energy weapons would be useless. A working prototype of the weapon was developed, but Starfleet opted not to produce the weapon after the advent of the regenerative phaser. (DS9: "Field of Fire")
In 2375, Science Officer Chu'lak used a TR-116 rifle to murder fellow Starfleet officers Hector Ilario, Greta Vanderweg, and Zim Brott aboard Deep Space 9. Chu'lak modified the rifle with a micro-transporter, which allowed him to beam the bullet into another room, only 8-9 centimeters from its target. An exographic targeting sensor allowed Chu'lak to scan through walls and target victims anywhere on the station from his quarters.
Lieutenant Ezri Dax later used a similarly modified rifle to stop Chu'lak. (DS9: "Field of Fire")
External links
Edit
Community content is available under
CC-BY-SA
unless otherwise noted.