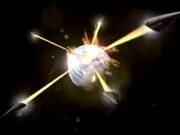 Doomsday War was the name given, in an alternate timeline, to the seemingly endless series of battles that followed the appearance of the Doomsday Weapons in 2254.
In 2254 the USS Enterprise under the command of Captain Christopher Pike tracked a strong temporal signal. Arriving at the source, they discovered a Planet Killer and Klingon D7 class battle cruiser engaged in battle. The weapon easily destroyed both ships and began pulverizing whole worlds to duplicate and eventually produce an army of machines. (Star Trek: New Voyages: "In Harm's Way")
Community content is available under
CC-BY-SA
unless otherwise noted.