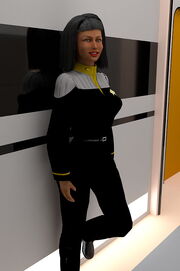 Lieutenant commander Roslyn Tyler was a Starfleet officer in the late 24th century, and the sixth of seven sisters known as the "Wild Roses".
Roslyn, along with her sisters, was a product of a Cardassian project to create human agents. By hand, Dr. Alan Murrow created a series of human augments that are stronger, smarter, and would be able to integrate into human society. Because he was afraid of his creations turning on him, Dr. Murrow attempted to detach himself from their upbringing (USS Baldwin: "Drift off to Dream", "Departure"). She was only known as "Number Six" until she managed to leave Cardassian space and join Starfleet. Roslyn chose her name because it meant "beautiful rose," a name Dr. Murrow eventually agreed was fitting. (USS Baldwin: "The Find")
Community content is available under
CC-BY-SA
unless otherwise noted.