For the mirror universe counterpart, see Tim Samuels (mirror).
Captain Tim Samuels was an Earth Starfleet engineer and line officer in the mid-22nd century.
Samuels served as chief engineer of the USS Yorktown and later commanding officer of the Discovery.
Starfleet service
[
]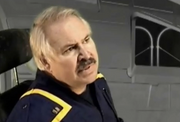 In the 2150s, Samuels helped in the early tests of the warp five engine with Jonathan Archer and Trip Tucker. He and Tucker had a close bond -- and rivalry -- at Starfleet Academy and the Warp Five Testing Program, often trying to outdo the other on technical achievements. Samuels had also worked with Bill Stiles for the last three years aboard the Intrepid.
Samuels was considered a leading expert on space-tested technology, and sometimes related better to technology than people. After serving on the Yorktown for two years, he was headed to extended shore leave with his girlfriend; Monica McDonald aboard the NES Avalon when the ship stuck a gravitic mine. Samuels and McDonald contained the warp core breach and were deemed "Heroes of the Avalon". However, McDonald did not survive as she received a lethal dose of delta radiation from the leaking core. Samuels received burns to his arms but later recovered. He was promoted to captain and given command of the Discovery. (Star Trek: The Romulan Wars)
Friendships and relationships
[
]
Samuels had a friendly rivalry with Trip Tucker.
Samuels was in a relationship with Ensign Monica McDonald.
It was not revealed if Samuels knew of McDonald's connections to Section 31.
Legacy
[
]
On stardate 1317.5 (about 2265), Erick Minard was bequeathed a stone of quadlithium by a relative he'd never met. Along with the stone, there was a message tape recorded by Tim Samuels, warning Minard of the dangers of quadlithium. (Starship Valiant: The Valhalla Stone)
External links
[
]