INACTIVE STAR TREK RPG
Typhon Station
Authors:
Various
Format:
PBEM
Typhon Station was an email-based RPG set on a station at the edge of Federation space along the Romulan Neutral Zone. The game took place at the turn of the 25th century, twenty-five years after the events of Star Trek: Deep Space Nine. The game was founded by Barbara Horwitz in about 2002. Many of the original players came from the Junction Point RPG.
Summary
[
]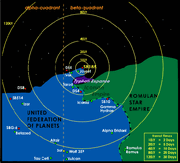 The game originally involved three separate scenarios - Starbase 185, USS Odyssey and the USS Wraith. Eventually they were consolidated into one game under the USS Odyssey banner after the death of the original founder in 2005.
In 2004, the Wraith game was disbanded. Several of the players transferred to the Odyssey game. In 2006, the entire game was folded into the Starbase 185 scenario.
The game continued for two years, operated by a committee of players, and the game was moved off the original servers onto one belonging to one of the founding players.
As of 2008, Typhon Station RPG banners could still be found in ads on various Star Trek sites and banner exchanges. This is typical of the copy, and is recorded here for historical purposes:
Typhon Station is a very fastpaced PBeM RPG with skilled, experienced players and a warm sense of bonding and community. We play at the turn-of-the-century, 2400, and are located in the Typhon Expanses, bordering the Neutral Zone, proximate to the Romulan Empire, and near the Iconian Digs, and are on the first warning route of the original Borg Incursion. We have three stations to post from, SB 185, USS Odyssey, and USS Wraith. They all have general and particular storylines and all interact. This game is not for the faint of heart! The writing is superb and comes hot and heavy. We have some open spots and also we will consider character suggestions. So, longtime RPGers and novices, check us out. See if you want to make Typhon Station your home away from home
Game play
[
]
Typhon Station was played via a majordomo mailing list. Unlike many games, posting was not done on the website, nor visible on the website, although there were links to summary compiles. New members were required to "post in" to their department heads after receiving the infamous "Three Letters." After that, players were free to post at will.
Unlike some games, players never posted dialogue for another players characters, instead leaving open "tags" in their own posts. Thus a scene or conversation would consist of two or more separate posts. Out of character comments (OOC:) were never made in game posts; there was a separate mailing list for those.
End of operations
[
]
The game ended operations in March 2007.
External link
[
]