USS Alan Turing (NCC-9313) was a Irreverance-class heavy cruiser on active duty in Starfleet.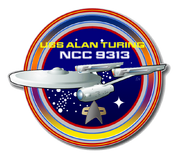 Alan Turing was deployed to the Starfleet Seventeenth Fleet upon launch, then was reassigned to the Twelth Fleet.
Nomenclature
[
]
The Alan Turing was named after Alan Turing (1912-1954), the 20th century English mathematician, cryptanalyst, computer scientist, and theoretical biologist.
Fan organizations
[
]
The USS Alan Turing is an internet-based chapter of Starfleet International. Its original city of charter was Laramie, Wyoming. At some point, the chapter moved to Tulsa, Oklahoma. The chapter president is Shane Coble
External links
[
]