The USS Arizona (NCC-71839) was a Galaxy-class large exploration cruiser on active duty in Starfleet during at least the last quarter of the 24th century. (Starfleet International: Vessel Registry, 9803. revision; Starfleet International: Vessel Registry, 0801.07 revision)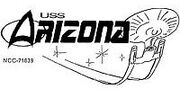 Arizona, commanded by Captain Lewis in the 2370s, was deployed to the Starfleet First Fleet. In the late 2390s, she was commanded by Admiral Scritchfield. (Starfleet International: USS Arizona)
The ship was named after the state of Arizona, in the United States of America, on Earth, as well as the USS Arizona (BB-39), an American superdreadnought battleship destroyed at the beginning of World War II.
Arizona is a chapter of Starfleet International, currently (2021) based in Canton, Ohio.
Community content is available under
CC-BY-SA
unless otherwise noted.