The USS Challenger (NCC-1676-D) was a Galaxy-class starship named after NASA's 20th century space vessel STS Challenger. (Starfleet International: USS Challenger-D)
Challenger has been under the command of Admiral R. Vosseller for nearly 25 years, since the ship's commissioning. Vosseller currently serves as the Vice Commander of the Starfleet Seventh Fleet and the ship is currently serving detached duty supporting operations out of Starbase 7.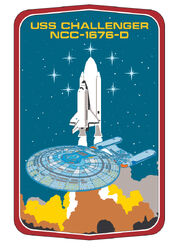 Currently the Ship's Senior Staff includes:
For many years in the late 24th century, Challenger served as flagship of the 7th Fleet.
USS Challenger has been a Starfleet International chapter, based in the Toms River, New Jersey area, since 01 November 1987. (STARFLEET Vessel Registry, May 2011)
Community content is available under
CC-BY-SA
unless otherwise noted.