STARSHIP
Ship Name:
USS Dawnstar
Registry:
NCC-63571
Affiliation:
Federation Starfleet
Type:
Heavy cruiser
Class:
Akira Class (2371-2384) Gemini Class (2384-2385)
Status:
Refitted and Active
CAREER
Yard:
Utopia Planitia
Launched:
2372
Commissioned:
2371
GENERAL CHARACTERISTICS
Length:
464.6 meters (Akira)
484.6 meters (Gemini) m
Beam:
316.7 meters (Akira)
326.7 meters (Gemini) m
Draft:
87.4 meters (Akira)
94.4 meters (Gemini) m
Decks:
Unknown
Propulsion:
Class 8 Warp Drive
Speed:
Warp 9.8
Complement:
500
Armament:
Phasers: x6 Type X Phaser Beam Emitters.
15x Torpedo Launchers
Shuttlecraft:
x10 Type-19 Shuttle (Enterprise-E Shuttle)
Motto:
"Bringing light to the universe."
The USS Dawnstar was an Akira-class vessel.
The ship was designed as an exploration ship that could be used as a battleship and brought into a battle. The ship was built at Mars Utopia Planitia and was finally finished and sent on its maiden voyage on December 22nd 2372.
Little is known about its service record, other that it was in command of Captain Maxwell Harris for a majority of its service life. It was present for the Battle of Deep Space 9 and survived though damaged.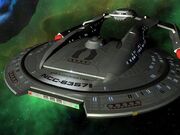 On September 26, 2384, Captain Maxwell Harris was killed by an attack from the ISS Thunderchild, a ship that was believed to be a Federation ship at the time. First Officer Ebak Sison assumed command as captain of the Dawnstar and managed to disable the ISS Thunderchild and escape.
3 days later, the Dawnstar assisted the USS Lionheart in curing the planet Betazed from a deadly plague. Unable to find Captain Azanialix Ja'arda of the USS Zealous the Dawnstar proceeded to Earth to receive its refit to a Gemini-class.
Community content is available under
CC-BY-SA
unless otherwise noted.