You may also be looking for USS Kelvin (NCC-0514).

USS Kelvin (NCC-514) was a Saladin-class destroyer on active duty in Starfleet during at least the 23rd century.
Ship was originally configured as an Avery-class survey ship USS Kelvin (NCC-0514) and listed as "Missing in Action" until recovered some years later. It was one of the last of the Avery class vessels still in existence and was in such good condition, it was uprated instead of retired. It is an unusual refit in that it retained its secondary hull, unlike other Saladin-class vessels and has a full complement of various shuttlecraft and fighters. (Starship Saladin)
The USS Rahman was scheduled to be constructed with the designation NCC-514 but just prior to construction, the recovery of the Kelvin prompted the Rahman to be redesignated NCC-574. (Starship Saladin)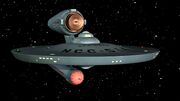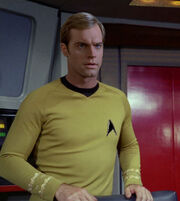 Background information
Edit
Changing the number of the USS Rahman was necessary because the number was superseded by the latest film for use on the USS Kelvin. Making the number NCC-574 makes it a simple matter of fixing only one number in the printed documentation if one so desires and not losing the ship entirely. Rahman will appear in an upcoming episode of Starship Saladin. While Kelvin does not appear in the Star Fleet Technical Manual the number does and the overall ship design fits it into a destroyer configuration with only minor modification to keep it in line with the rest of the destroyer fleet. Both Kelvin and Rahman have important roles in the Starship Saladin episodes.
Community content is available under
CC-BY-SA
unless otherwise noted.