The USS Storm (NCC-1694) was a Constitution-class heavy cruiser — of the Enterprise-subclass — in Federation Starfleet service.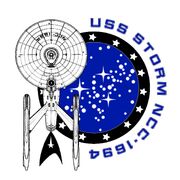 The Storm was deployed to the Starfleet Seventh Fleet during its operational lifetime.
Nomenclature
[
]
The ship took its name from Storm (Marvel Comics), the code-name of the 20th- and 21st-century mutant superhero Ororo Munroe, who had weathercasting abilities.
Marine Strike Group
[
]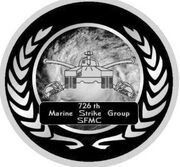 The 726th Marine Strike Group ("The Perfect Storm") was embarked on Storm during its operational lifetime, initially under Lieutenant Colonel Neigut, then Lieutenant Colonel DiMatteo, then Lieutenant Colonel Kadin. The MSG's motto was "Any port in a storm."
Legacy
[
]
A training cadre aboard Storm became the command crew of the Avenger-class heavy frigate USS Robert E. Lee in late 2388.
Fan organizations
[
]
Storm was a chapter of Starfleet International based in Atlantic City, New Jersey. It was established 30 October 2010. (STARFLEET Vessel Registry, May 2011)
At some point, it changed its fictional metaphor from an Enterprise (II)-subclass heavy cruiser to a modified Galaxy-class explorer. The group disbanded in late 2019 or early 2020; its CO and some other members formed the chapter USS New Jersey (NCC-2121), whose metaphor was a Federation-class dreadnought.
External link
[
]