The USS Susquehannock (NCC-71833) was a Galaxy-class large exploration cruiser on active duty in Starfleet during at least the last quarter of the 24th century.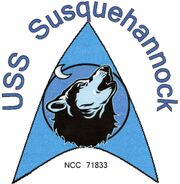 She was assigned to the Starfleet Seventh Fleet in the 2380s and 2390s under the command of Captain D. Hutley.
The ship was named after the Susquehannock (also known as the Conestoga), the indigenous peoples who lived in areas adjacent to the Susquehanna River and its tributaries -- in what are now called the Middle Atlantic States of the United States of America.
The USS Susquehannock is a Starfleet International chapter founded 04 March 2010 and was based in York, Pennsylvania. (STARFLEET Vessel Registry, May 2011)
It is currently (2021) based in Camp Hill, Pennsylvania and its chapter president is Jim Hutley. Doris Hutley was the first chapter president.
Community content is available under
CC-BY-SA
unless otherwise noted.